Pin It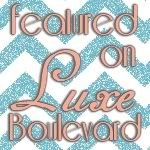 Ok, what do you think about the new look? I'm just really loving the red/aqua color combo--if you couldn't tell from
this post
. So I B.Chenified my page. Done and Done.
So once upon a time, my husband gave me his birthday gift. Ok, not his gift. Not even a gift of his choice, actually. When I asked him what he wanted this year, he asked for dinner (downtown), the t-shirt I already bought him (I get him a funny t-shirt for every holiday) and for me to get a Silhouette. Well hot diggity Damn J Chen! You don't have to tell me twice :-) That baby was ordered straight away and finally showed up yesterday. Yeah Yeah!
I was pretty confused at first--
and oh yeah, still am
--but I managed to make a couple of fun new designs. Now, of course I can't show you those designs yet because they're
super secret!
All in good time....
Chenyways, after playing around for a long time I gave it a rest and started working on a few scrap fabric circle hairpins. So here I am, trying to make the circles even as well as different sizes. I decide to make a template for myself, so I do what I always do....trace the circles I've already made onto card stock, then exacto knife around them leaving a stencil template of sorts. After the first jagged circle was cut out, it hit me. DUDE. This is EXACTLY what a silhouette is for!!!! OmgOmg. I'm soooo smart. So that became my first project--stencil templates. They likely have a "real" name for this, but I do what I want. Thanks.
First I designed this, using the flower images in the silhouette's library:
Yay J Chen for figuring out the screen shot shortcut!
And then these guys, also from the library:
Once the sheets were cut, I took the stencils and traced them onto felt:
And looky looky what they made!!!!
So I cut them out of felt, stacked them up, hand-stiched through the middle, threw on a button and Voila! Super cute felt flowers! I especially like the grey one--that would look awesome on a yarn wreath, dontca think? Sure you do!
I know that maybe this isn't the best use of a Silhouette, but I'll tell you what, if it makes your life a little easier, then by all means!
Thank you for stopping by :-) Leave a comment if you have time--they make my day!
Big (Ooooh, I figured out the machine-thing) Smile,
B.Chen